3D modeling power and finesse without constraints for product packing and display.
Ashlar-Vellum Xenon 3D modeling software offers supreme design flexibility, speed and ease of use for display and packaging. Available for both Macintosh and Windows, Xenon lets designers work without worrying about their software. Packaging and display designers save time and money by moving quickly from conception through completion in the real world of last minute changes.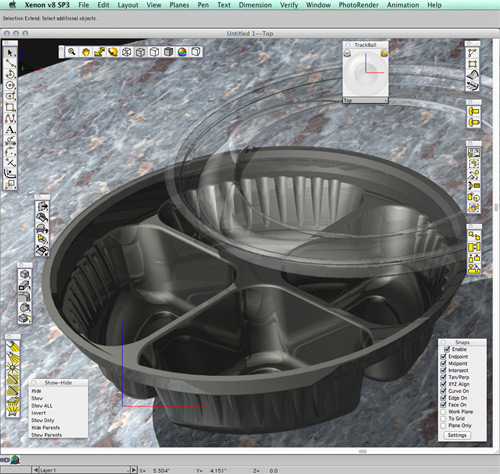 Benefits at a Glance
Xenon's modeling and 3D rendering capabilities create:
Any complex or organic shape easily in three dimensions.
Virtual prototypes saving time and money.
Winning customer and corporate presentations.
Easy variations on a design and fast revisions from feedback.
All types of packaging and display designs including those for vacuum plastics, paperboard and corrugated display.
Design any Shape Imaginable
Sensual curves, organic forms and flowing edges are all easily drawn in Xenon. Unlike traditional CAD programs, which lack the flexibility to create truly beautiful forms, Xenon lets you set your own style, without limits.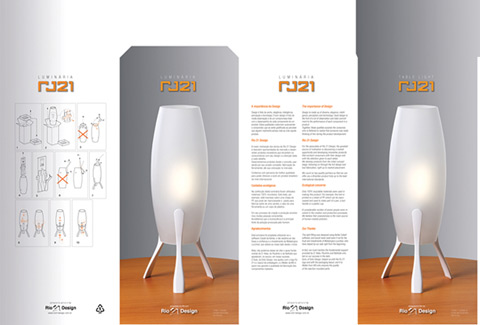 The Drafting Assistant™
Ashlar-Vellum pioneered the Drafting Assistant in 1989 to automatically snap to and align geometry to midpoints, endpoints and construction lines with precision and ease.
Parametric History on Demand
Parametric history is a powerful tool, making design changes fast and easy. It can also constrain creativity and become a bother. Ashlar-Vellum Xenon uniquely allows packaging and display designers to use history on demand, only when needed, and ignore it when it is not, greatly increasing the creative process.
Fully Integrated Wireframe, Solids and Surfaces
Class-A NURBS surfaces, ACIS solids and intuitive wireframe are in one seamless package. Non-modal interface lets you switch between modeling techniques and approaches on the fly.
Transparent Tools
Great design software must disappear into the background, becoming an automatic extension of the designer as he or she concentrates on the project at hand. Xenon is so transparent it doesn't require the designer to think about it. It simply works the way a designer thinks.
Photo-realist and Sketch Rendering
Photo-realistic rendering goes beyond visualization to reality. Get faster buy-in from others on your ideas, then show manufacturing what you expect. Everyone sees exactly what you envision. Don't want to present a completed idea? Xenon's sketch rendering makes your models look hand drawn, bringing out the artistic and emotional appeal in a design.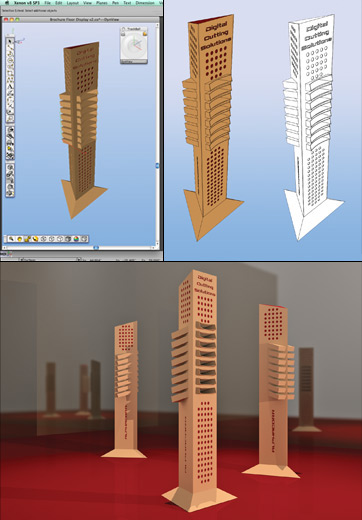 Translation
Includes more than 30 professional translators to other software programs used in the CAD, graphics, CAM, packaging and display industry. Export as STL for 3D prototypes or as IGES, STEP of DXF for precision manufacturing.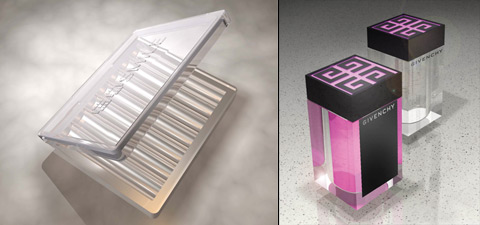 Full Mac and Windows Compatibility
No matter which operating system members of your team prefer, Xenon supports them. Designers who prefer OS X can easily exchange files with production people who require Windows 7 or XP.
Learn More
For more information contact using Xenon for packaging and display design, contact AlphaCorr. Or for a detailed list of Xenon features and specification, visit the Ashlar-Vellum website at www.ashlar.com.