Pay as you go and work on line to design easy custom packaging and point-of-purchase display designs.
Dieline Genius 2D Online lets those with little or no packaging experience create great looking corrugated and folding carton structures as often or as infrequently as they need them. No big investment in software, no subscription commitments. Just change the parameters on any design and output a functional dieline including automatic adjustment for material allowance.
Log in to our library of over 500 resizable designs, customize the parameters, then check out using a credit card or PayPal, and export the design as a 2D PDF or other file format for as little as US $1.50.
Dielines can be brought into Adobe Illustrator or CorelDRAW in order to add artwork, or bring them into another CAD package for other modification.
Now any salesperson, graphic artist, machine operator or draftsperson can select a design, set the parameters, and have a precision dieline in just minutes. No need to spend hours learning the nuances of packaging design or waiting for a response from a busy structural packaging designer.
It's Easy to Use
To create your custom designs, simply:
From the library select one of the 500+ designs for packaging or point-of-purchase displays.

Preview the two dimension design.
Modify the default parameters such as length, width, depth and other dimensions including material thickness as appropriate to the design.

Enter your credit card or PayPal information on PayPal website.
Export the design as any of the following file formats to your production equipment:
DXF/DWG
EPS
CFF2
2D PDF
HPGL
DDES2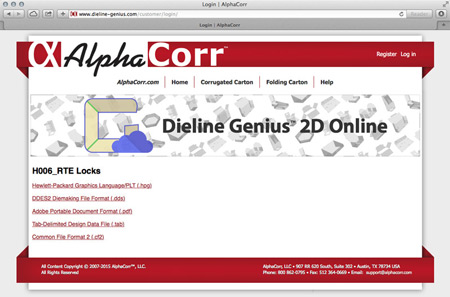 Browser Support
Dieline Genius 2D Online is compatible with:
Safari
Internet Explorer
Google Chrome
Opera
Firefox
Prices as low as US $1.50 per custom sized design
Example pricing includes:
Simple Regular Slotted Carton: US $1.50 per sized design
Medium Complex Package or Display: US $5.00 per sized design
Multi-piece Display: US $25.00 per sized design
Exact pricing is found by registering and exploring the library.