Everything You Need to Know About Corrugated Packaging & Display Design—No Experience Necessary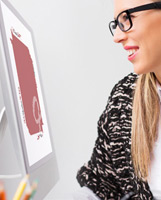 A graphic artist has to be a jack of all trades and an expert of many as well. As if you didn't have enough on your plate designing eye catching logos, keeping abreast of website SEO, and laying out the annual report, now someone wants you to design packaging for the company's latest product. You can't just put it in any old cardboard box and ship it!
AlphaCorr offers graphic artists the tools necessary to quickly come up with great, customized corrugated and carton packaging and retail displays. Select a template for any of our Dieline Genius products, customize it's size and thickness parameters, add art using Adobe Illustrator, visualize it's folding and assembly, output the appropriate file and voila! It's ready for production.
Not Your Average Cardboard Box
We offer an array of tools to make the design of effective corrugated and folding cartons and displays.
Adobe Illustrator plug-in for precision 3D folding and assembly visualization of die lines.
From within Adobe Illustrator customize dieline designs from our library, add art, visualize results and export.
For occasional packaging or display creation needs, work online and pay as little as US $1.50 per design.